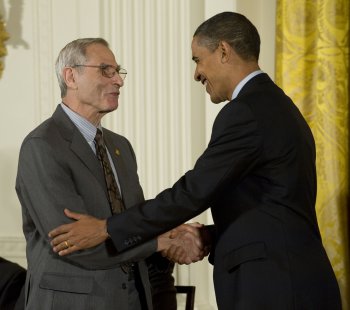 EUGENE, Ore. -- (Sept. 17, 2009) -- University of Oregon psychologist Michael Posner was among nine researchers named as winners of the 2008 National Medal of Science, the highest honor given by the U.S. government to scientists, engineers and inventors.
Posner, who joined the UO faculty in 1965, is considered a leading pioneer who helped build the field of cognitive neuroscience into its current state, said his long-time colleague Mary K. Rothbart, who in May received the 2009 Gold Medal for Life Achievement in the Science of Psychology by the American Psychological Foundation.
"It is a great honor for me, the areas of research in which I have been working and the many students and collaborators who have been involved and are involved in these studies," Posner said in an email from Europe. "It is a special treat to receive the award from President Obama, who is working so hard for us all."
Original White House Announcement
Oct. 7 Award Ceremony at White House
(Ceremony is 25 minutes long; Posner presentation is at 18:00)

Posner, a professor emeritus, added that he will continue to be active in his on-going research projects with Chinese scientist Yi-Yuan Tang, a visiting scholar at the UO, and with Rothbart.
"As a colleague, I am absolutely thrilled that Mike Posner is receiving the National Medal of Science," Rothbart said. "He is truly deserving of the award -- on the basis of his research, his thinking that bridges areas of science to form new fields of study, his training of students, and his international influence on programs in cognitive neuroscience. Mike has been a pioneer in developing measures for illuminating how the mind works and how the operations of the mind can be mapped onto activation patterns in the brain. His research effectively has linked the psychology of the mind to the biology of brain function."
"This award to Mike is huge for us," said Louis Moses, head of the UO's psychology department. "Mike has been a seminal figure in the whole field of cognitive neuroscience, which is an essential aspect of the research we do here at the University of Oregon. Mike also has been pivotal in the creation of the Brain Biology and Machine Initiative here on campus. This is a huge honor for him, as well as for us."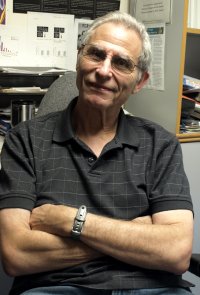 Posner's contributions to science transcend his own discoveries, said Rich Linton, UO vice president for research and graduate studies. "He has had profound influence on numerous undergraduate, graduate and postdoctoral students, as well as on faculty and research scientists throughout the world," he said. "Mike's visionary leadership has been instrumental in launching countless scholars and programs into fruitful pursuit of the relationship between mind and brain."
Posner's current research deals with genetic and experience-related factors in the development of brain networks underlying attention and self-regulation. His research draws on functional magnetic resonance imaging (fMRI), electroencephalography (EEG) and molecular genetic methods.
In 1985-88, Posner took a leave of absence from the UO to explore then-emerging brain-imaging techniques through an appointment at Washington University in St. Louis, where worked with Marcus Raichle, using positron emission tomography. While in St. Louis, he worked to adapt the subtractive method to brain imaging. That work was summarized in "Images of Mind," a book co-authored by Posner and Raichle, a professor of radiology, neurology, neurobiology and biomedical engineering.
"First, he asked participants to perform the tasks linked to each mental operation, and then subtracted the brain activations from the more complex to the less complex task to identify the areas of the brain that supported the operation," Rothbart said. "These imaging methods could localize the source of brain activation, but could not follow the time course of activation of neural networks. To do this, Mike used the evoked response potential, which follows surface voltage from the scalp over time. He also studied links between the two methods, allowing analysis of both brain location and time of activation."
Posner's most enduring focus has involved the nature of mental attention, Moses said. "His outstanding research contributions to this and related areas have been widely recognized. His work is among the most cited in the field, and many of his publications have become citation classics."
Posner is collaborating with Tang, whose home institution is the Dalian University of Technology in China, on exploring the mental and physical benefits of integrative body-mind training (IBMT), a meditation practice popular in China. The research, most recently described Sept. 13 in Parade Magazine, has drawn interest internationally.
With Rothbart is studying the development of attention in infancy and the development of self-control in children 2 to 7 years of age.
He and Rothbart co-authored a book, "Educating the Human Brain," about their work on the development of attention that was published by the American Psychological Association in 2006.
Posner was born in Cincinnati, Ohio. He earned a bachelor's degree in physics and a master's degree in psychology in 1957 and 1959, respectively, from the University of Washington in Seattle and a doctorate in psychology in 1962 from the University of Michigan. He served as head of the UO psychology department from 1995-1998.
Posner, whose name appears on more than 200 academic journal articles, has been supported by federal agencies such as the National Institutes of Health, National Science Foundation and the Office of Naval Research, as well as several private foundations, including McDonnell, Keck, Pew and Templeton.
Posner has won several major awards for his research, including the Dana Foundation Award in 1996 for pioneering work in medicine. He was named Scientist of the Year in 1995 by the Oregon Academy of Sciences, elected as a member of the Institute of Medicine of the National Academy of Science in 1988; as a fellow of the American Academy of Sciences in 1986, as a fellow to the National Academy of Science in 1981, and as a Guggenheim Fellow for 1979-80.
Posner will be among the nine U.S. scientists, along with four inventors and representatives of a winning company -- winners of the National Medal of Technology and Innovation -- at a White House ceremony on Oct. 7.
"These scientists, engineers and inventors are national icons, embodying the very best of American ingenuity and inspiring a new generation of thinkers and innovators," President Obama said. "Their extraordinary achievements strengthen our nation every day -- not just intellectually and technologically but also economically, by helping create new industries and opportunities that others before them could never have imagined."
The National Medal of Science was created by statute in 1959 and is administered for the White House by the National Science Foundation. Awarded annually, the medal recognizes individuals who have made outstanding contributions to science and engineering. Nominees are selected by a committee of presidential appointees based on their advanced knowledge in, and contributions to, the biological, behavioral/social, and physical sciences, as well as chemistry, engineering, computing, and mathematics.