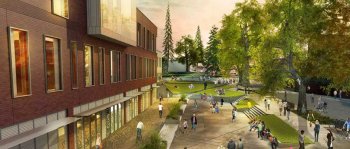 EUGENE, Ore. – (Nov. 18, 2013) – The University of Oregon will begin a $95 million renovation and expansion of the Erb Memorial Union
in December that will create new student collaboration spaces and reinvent the university's student union for the next generation of students.
The project, scheduled for completion in June 2016, will include the preservation and renovation of historically and architecturally significant areas of the 1950s structure, and demolition and reconstruction of other areas resulting in approximately 80,000 square feet of new space and 134,000 square feet of renovated space.
"We are all very excited to see the results of this collaborative effort to create an innovative redesign of the EMU," said Robin Holmes, vice president for Student Affairs. "We are especially proud that it will include newly designed space while still preserving and enhancing the historic aspects of the original building."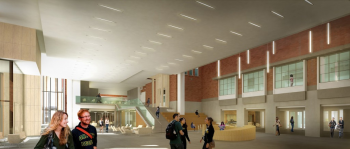 The renovation and expansion project will include expanded student organizational space, added meeting space for general student and campus departmental use, a computer lab and expanded food and retail space. In addition, a campus pub with food and beverage service will be added with more public spaces to support high volume daily use, large performances, conferences, exhibits and displays of art.
"The vision for the EMU is to provide programs, services and spaces that are fully aligned and supportive of the academic mission of the university," said Laurie Woodward, director of the EMU. "No UO graduate has ever majored in student unions, but it would be hard to find a Duck whose college experience wasn't somehow shaped by the EMU."
The renovation and expansion project is being funded with $5 million in private donations and $90 million in student fees, including the existing student building fees and a new EMU facility fee, continuing a legacy of pay-it-forward projects at the UO including the original EMU, the Student Recreation Center and McArthur Court.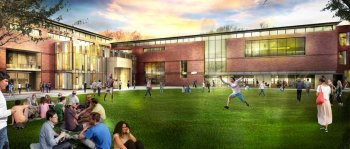 "By voting to increase student fees to renovate the EMU, Oregon students essentially made an investment in the future of our school to make a positive change, like the students who came before us," said Miles Sisk, a student member of the EMU board of directors and Associated Students of the University of Oregon (ASUO) senator.
Built in 1950 and expanded in 1962 and 1973, the EMU was sized to serve a student body of 16,000 students. However, the current University of Oregon enrollment is approximately 24,500. In addition, much of the facility's infrastructure is past its projected life span and is in need of deferred maintenance, while it lacks many of the amenities and student program spaces found within student unions across campuses nationwide.
"Back in 1923, a group of students gathered together with the vision of a building that would serve as the heart and soul of campus. It took almost 25 years for their vision to become reality," said Woodward. "Now almost 75 years later, it's time to give the EMU a makeover, and students have again been the catalyst for making it happen." 
The project aspires to achieve the U.S. Green Building Council's Leadership in Energy and Environmental Design, or LEED, gold certification or better in the new student wing, and strives for sustainable design that will substantially reduce the energy footprint of the current, outdated facility.
The goal is to keep the facility open and working during construction, and to provide current services at current or alternative locations as much as possible. Many EMU student programs and services will be relocated in temporary spaces in the building. During spring break 2014, there will be significant migration of programs, including ASUO student government, to McArthur Court, which will become a lively student experience center with food services, lounges, events and artwork.
"A new and upgraded EMU will better serve student programs than the current building, and will bring students back into the center of campus," said Sisk. "It will create a much more active UO student body, more like it was decades ago."
The collection of the facility fee, which was approved by a student vote in November 2012, will begin in fall 2014 to begin repayment of the bond for construction. The 2013 Oregon Legislature approved $84,300,000 Article XI-F (1) bonds to renovate and expand the EMU. Debt service on the bonds will be paid with a new $69 per term student building fee approved in a fall 2012 student referendum.
The EMU project, expected to result in 850 construction-related jobs, is the latest capital construction project that has transformed the UO campus and provided an economic boost to the local economy. In the past decade, there have been 38 UO projects valued at a total of nearly $800 million that have resulted in slightly less than 1.9 million square feet of new and renovated space on campus.
About the University of Oregon
The University of Oregon is among the 108 institutions chosen from 4,633 U.S. universities for top-tier designation of "Very High Research Activity" in the 2010 Carnegie Classification of Institutions of Higher Education. The UO also is one of two Pacific Northwest members of the Association of American Universities.
MEDIA CONTACT: Melissa Foley, UO media relations, 541-346-5361, mfoley@uoregon.edu
Note: The University of Oregon is equipped with an on-campus television studio with a point-of-origin Vyvx connection, which provides broadcast-quality video to networks worldwide via fiber optic network. In addition, there is video access to satellite uplink, and audio access to an ISDN codec for broadcast-quality radio interviews.