EUGENE, Ore. — (Feb. 17, 2014) — Archaeological data from 171 sites in southeast Alaska, British Columbia and Washington indicate that management efforts along the Pacific Coast need to take a longer view into the past to better protect fisheries for the future.
That is a key conclusion of a multi-institutional study appearing online this week ahead of regular publication in the Proceedings of the National Academy of Sciences. Among the study's nine co-authors are Iain McKechnie, who co-led the project as a doctoral student at the University of British Columbia and is now a postdoctoral researcher at the University of Oregon, and Madonna L. Moss, a professor of anthropology at the UO.
The data studied primarily covered the last 2,500 years at the sites but span the past 10,700 years. Pacific herring (Clupea pallisii) has been a foundation for the region's coastal ecosystem and is an important food source for indigenous populations. The researchers concluded that herring have been consistently abundant in all regions, but especially in the northern Salish Sea and southwestern Vancouver Island areas.
"This study extends our perspective on coastal fisheries in the Pacific Northwest. Among the dozens of species harvested by countless generations of Native Americans and First Nations in Canada, one stands out archaeologically: herring," said McKechnie, a Social Science and Humanities Research Council of Canada Fellow at the UO. "Herring was a consistent focus of the fishery for at least the last 2,500 years. This helps contextualize the circumstance of present-day fisheries and allows us to reconsider how herring was a food fish, not just as roe or bait as it is with much of the commercial fishery today."
Moss, who for years has studied the anthropological significance of salmon and cod, said that Northwest herring populations have been impacted by 120 years of industrial fishing and, especially, since the 1970s by the increased demand for their eggs, or roe, especially in Japan. In contrast, Native Northwest indigenous populations harvest eggs after spawning, collecting them from branches placed in the intertidal zone, and eat the fish they catch.
The authors combed through reams of archaeological reports that analyzed almost half a million fish bones at the sites. That data from the past was combined with new research in progress along the British Columbia coast. Indigenous peoples harvested at least 100 different fish species in the region, researchers said.
"By compiling the largest dataset of archaeological fish bones in the Pacific Northwest, we demonstrate the value of using archaeological data to establish an ecological baseline for modern fisheries," said McKechnie, who will be continuing his research alongside Moss.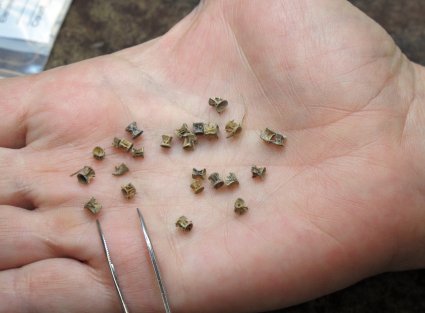 "This kind of ecological baseline extends into the past well beyond the era of industrial fisheries and is necessary for designing sustainable management today," said co-author Ken Lertzman, a professor at Simon Fraser University and director of SFU's Hakai Network for Coastal People, Ecosystems and Management.
The study was an initiative of the SFU-based Herring School, a group of researchers that investigates the cultural and ecological importance of herring. Co-author and SFU archaeology professor Dana Lepofsky said the findings "fit well with what First Nations have been telling us."
Since the range of Pacific herring crosses national borders, it's critical for U.S. and Canadian researchers to tackle these issues together, working with the region's First Nations and Native American communities and fisheries scientists and policymakers, Moss said. "This is one of the reasons I'm so excited about having Dr. McKechnie as a postdoctoral fellow at the University of Oregon," she added. "Forage fisheries around the world are in trouble. It's important to understand their long-term dynamics and intervene, if we can."
The new study, Moss said, builds on a "herring synthesis" project completed in 2010 with Virginia Butler of Portland State University, a co-author on the new study, and Tom Thornton of Oxford University in a collaboration that included Tlingit experts. That project brought together archaeology, oral history and traditions, as well as ethnographic and historical data to understand the long-term use and cultural importance of herring to Tlingit and Haida communities in Alaska.
"Local communities provided a wealth of information about how herring have been important in people's lives," Moss said. "By combining archaeology and place-based cultural knowledge, we can better understand coastal ecology prior to industrial development."
♦ 2011 article on McKechnie and Lepofsky's research (Behold! The Mighty Herring!)
National Geographic Research, Social Sciences and Humanities Research Council of Canada, the Tula Foundation, the Hakai Network for Coastal People, Ecosystems and Management, the North Pacific Research Board, and a Borden Fellowship at the University of British Columbia supported the research.
Additional co-authors are Trevor J. Orchard of Lakehead University in Orillia, Canada; Gary Coupland of the University of Ontario, Toronto; Fredrick Foster of Rutgers University, New Brunswick, N.J.; and Megan Caldwell of the University of Alberta, Edmonton, Canada.
About the University of Oregon
The University of Oregon is among the 108 institutions chosen from 4,633 U.S. universities for top-tier designation of "Very High Research Activity" in the 2010 Carnegie Classification of Institutions of Higher Education. The UO also is one of two Pacific Northwest members of the Association of American Universities.
Media Contacts: Jim Barlow, director of science and research communications, University of Oregon, 541-346-3481, jebarlow@uoregon.edu, and Carol Thorbes, public affairs/media relations, Simon Fraser University, 778-782-3035, cthorbes@sfu.ca
Sources: Iain McKechnie, Vancouver resident, affiliations with the University of British Columbia, Simon Fraser University and the University of Oregon, 778-229-3424, iain@alumni.ubc.ca, Madonna Moss (Eugene resident), 541-346-6076, mmoss@uoregon.edu, Dana Lepofsky (Vancouver resident), 778-782-5403, dlepofsk@sfu.ca, and Ken Lertzman (Deep Cove resident), 778-782-9236, lertzman@sfu.ca
Additional Links:
Follow UO Science on Facebook: http://www.facebook.com/UniversityOfOregonScience
UO Science on Twitter: https://twitter.com/UO_RIGE
More UO Science/Research News: http://uoresearch.uoregon.edu
Note: The University of Oregon is equipped with an on-campus television studio with a point-of-origin Vyvx connection, which provides broadcast-quality video to networks worldwide via fiber optic network. In addition, there is video access to satellite uplink, and audio access to an ISDN codec for broadcast-quality radio interviews.