EUGENE, Ore. — (Apr. 11, 2014) — A daylong symposium Wednesday, April 16, dedicated to climate-change issues at the University of Oregon will feature "an insider's perspective" from a former U.S. climate negotiator.
The event is the third annual Climate Change Research Symposium, which runs from 8:30 a.m. to 4 p.m. at the Erb Memorial Union (EMU) Fir Room, 13th Avenue at University Street, followed by a roundtable discussion and reception, beginning at 4:30 p.m., at the Museum of Natural and Cultural History, 1680 E. 15th Ave. The event is co-hosted by the UO Climate Change Research Group and the museum. Admission is free.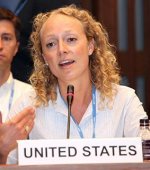 Keynote speaker Kate Larsen, director for climate change at the New York-based Rhodium Group, will discuss "Climate Change Negotiations: An Insider's Perspective" at noon at the EMU. Larsen is the former deputy associate director for energy and climate change at the White House Council on Environmental Quality and a former climate negotiator at the U.S. Department of State.
The symposium will include four multidisciplinary panels featuring 26 UO presenters.
"Faculty and students here are doing research on numerous aspects of climate change, helping to deepen our understanding of the physical, biological and social facets of this problem," said Ronald Mitchell, the symposium organizer and UO political science professor. "The symposium is a great opportunity to learn about cutting-edge research into the causes of climate change, the impacts it's likely to have and what we can do to avert some of those impacts or adapt to those we can't avert."
At 4:30 p.m., the Museum of Natural and Cultural History will host a roundtable discussion, "Promises and Pitfalls of Teaching Climate Change in the Classroom," moderated by Alan Dickman, UO associate professor of biology. Participants will include students from "The Cultures of Climate Change" — a UO course led by English professor Stephanie LeMenager and recently featured in The New York Times — and from the UO Teaching Effectiveness Program.
The symposium concludes with a reception at the museum, beginning at 6 p.m. Attendees will be able to preview  the museum's new natural history exhibit "Explore Oregon! that includes state-of-the-art displays on climate change in the Pacific Northwest.
About the UO Climate Change Research Group
The Climate Change Research Group brings together individuals whose problem-driven research, literary work and works of art transcend traditional disciplinary boundaries, promoting a lasting and multi-faceted dialogue surrounding the global crisis of climate change.
About the Museum of Natural and Cultural History
The Museum of Natural and Cultural History is a center of interdisciplinary research and education, serving the global research community, the University of Oregon, K-12 students and educators, and the wider public in Oregon and beyond. The museum's exhibits span 15,000 years of human history and 300 million years of environmental change. Exhibits are open to the public Tuesday-Sunday from 11 a.m. to 5 p.m.
Media Contact: Kristin Strommer, UO Museum of Natural and Cultural History, 541-346-5083, kstromme@uoregon.edu
Source: Ronald Mitchell, UO Department of Political Science, 541-346-4880, rmitchell@uoregon.edu
Note: The University of Oregon is equipped with an on-campus television studio with a point-of-origin Vyvx connection, which provides broadcast-quality video to networks worldwide via fiber optic network. In addition, there is video access to satellite uplink, and audio access to an ISDN codec for broadcast-quality radio interviews.