The University of Oregon's Museum of Natural and Cultural History (MNCH) is set to open "Explore Oregon" and welcome the public to the new 2,755-square-foot exhibition hall devoted to the state's natural history and geology.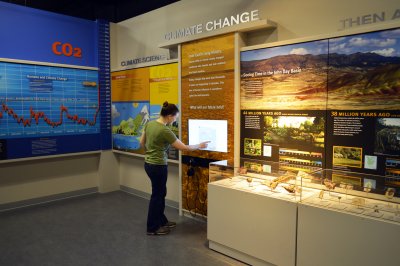 The grand-opening celebration kicks off with a public reception from 6 p.m. to 8 p.m., Friday, May 30, and continues with an open-house celebration from 11 a.m. to 5 p.m. on Saturday and Sunday, May 31–June 1. Both events are free and will take place at the museum, 1680 E. 15th Ave.
The "Explore Oregon" exhibition combines cutting-edge scientific displays with works of art that bring Oregon's deep past to life. The "Explore Oregon" hall, which doubles the museum's public exhibition space, represents a major expansion of the museum's natural history offerings and complements its longstanding focus on the state's cultural history.
"When I became director almost nine years ago, I promised museum supporters we would increase our coverage of the state's natural history," said MNCH Executive Director Jon Erlandson. "'Explore Oregon' fulfills that promise, greatly expanding our capacity to serve the UO campus community and the wider public."
►The on-campus community may get an early look at the new exhibition from noon to 1:30 p.m. on Friday, May 30. In a special ceremony, beginning at about 12:15 p.m., MNCH Executive Director Jon Erlandson will present the museum's Lifetime Achievement Award. UO President Michael Gottfredson also will speak before the ribbon is cut at the exhibit's entrance.
"Explore Oregon" occupies a former museum collections vault that was renovated into public exhibition space after its contents were moved to a new collections storage facility that was completed in 2009. The state-of-the-art collections center was built with $2.2 million secured by U.S. Rep. Peter DeFazio, D-Ore., in 2005.
The renovation and build out of the "Explore Oregon" hall was funded largely through philanthropic gifts in support of the museum.
Spanning 300 million years, "Explore Oregon" examines the forces shaping the state's landscapes and ecosystems. Rare fossil specimens from the museum's collections join vibrant murals, interactive displays and touchable objects situated throughout the exhibit.
Among the main attractions is a display of the sabertooth salmon — a roughly 7-foot-long fish, related to modern sockeye — that swam in Oregon waters millions of years ago. Along with fossils and a skull cast from a 3-dimensional printout, the display features a life-size sculpture of the salmon and a 7-by-9-foot mural painted by Alaska artist Ray Troll.
"I've been fascinated by this ancient salmon for the last 20 years, and it's so cool that it's finally getting the attention it deserves," Troll said. ""I hope museum visitors will find this creature as awe-inspiring as I have."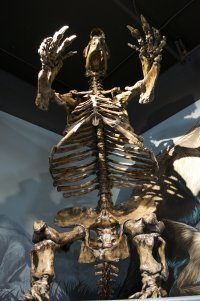 The exhibition also spotlights climate change and its effects on Pacific Northwest ecosystems. At one of the main displays, visitors can explore 40 million years of climate change and adaptation in Oregon's John Day Basin.
"From large mammals to plant traces in ancient soils, Oregon's extensive fossil record helps illustrate how plants and animals have weathered past greenhouse crises," said Greg Retallack, co-director of the museum's paleontology division.
Among the large mammals represented in the museum's fossil collections is the Harlan's ground sloth; a 7-foot-tall replica skeleton of the ice-age animal stands at the heart of the "Explore Oregon" hall.
The exhibition links Oregon's deep past to its present and future, inviting visitors to consider the role humans now play in climate change and to contribute ideas for conserving the state's unique ecosystems.
"There's a strong message of environmental stewardship and sustainability throughout the exhibit," said MNCH paleontologist Edward Davis. "We're confident that message will resonate with visitors as they explore the natural forces shaping the region."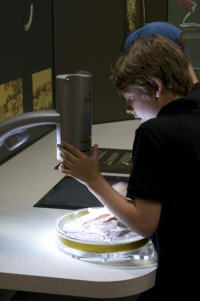 "Explore Oregon" is the product of an interactive prototyping process that involved the community in designing the exhibition.
"Beginning in the spring of 2012, we invited visitors to test series of sample displays, providing feedback on their experiences through focus groups, surveys, sticky notes and one-on-one interviews," said Ann Craig, interim director of public programs at the museum. "Visitor input from the prototyping phase has directly shaped the final displays, ensuring that they'll offer our visitors memorable experiences."
The prototyping project was made possible through a competitive grant awarded to the museum by the Institute of Museum and Library Services in July 2011. The grant program supports activities that build the capacities of museums to serve their communities.
About the Museum of Natural and Cultural History
The Museum of Natural and Cultural History is a center of interdisciplinary research and education, serving the global research community, the University of Oregon, K-12 students and educators, and the wider public in Oregon and beyond. The museum's exhibits span 15,000 years of human history and 300 million years of evolutionary and geologic change. Exhibits are open to the public Tuesday through Sunday from 11 a.m. to 5 p.m. Admission is $5 for adults, $3 for youths and seniors, and $10 for families.
Media Contact: Kristin Strommer, UO Museum of Natural and Cultural History, 541-346-5083, kstromme@uoregon.edu
Museum Sources:
Greg Retallack, co-director, paleontology division, 541-346-4558, gregr@uoregon.edu
Edward B. Davis, paleontologist, 541-346-3461, edavis@uoregon.edu
Ann Craig, interim director, public programs, 541-346-3116, acraig@uoregon.edu
Jon M. Erlandson, executive director, 541-346-0662, jerland@uoregon.edu
Note: The University of Oregon is equipped with an on-campus television studio with a point-of-origin Vyvx connection, which provides broadcast-quality video to networks worldwide via fiber optic network. In addition, there is video access to satellite uplink, and audio access to an ISDN codec for broadcast-quality radio interviews.