Plans detailed for new academic center named after former university leader Allan Price
EUGENE, Ore. – (June 6, 2014) – The rapidly growing number of students studying sciences at the University of Oregon will soon have a new facility to further their academic and other interests, thanks to another major gift by one of the UO's most generous donors.
Since 2000, there has been a 72 percent increase in the number of UO students majoring in sciences, and those students will soon benefit from a new science commons library.
The University of Oregon shared preliminary designs for a two-story building that will replace the well-worn existing science library by spring 2016. The $16.75 million project will create a modern academic and social center designed to spark new research and learning opportunities by bringing together students and faculty members in all scientific disciplines.
The Allan Price Science Commons and Research Library brings the university's total investment in capital projects for academics since 2001 to nearly $425 million. The project joins other academic upgrades and additions, including the School of Music and Dance expansion, School of Journalism and Communication expansion, new Lewis Integrative Science Building and others.
Margaret Bean, head of the Science Library, said plans call for more "people" spaces such as group study rooms, classrooms, demonstration labs, a "big data" visualization center, and a "maker" space where everyone on campus can take advantage of tools such as 3-D printing.
"The two decades since the library's last renovation have brought about unprecedented changes in the way people use technology, especially in the scientific disciplines, where collaboration and integration of research among the many branches of science has seen such acceleration," Bean said.
When complete, the Price Science Commons will totally replace the 34,200-square-foot underground building and add a highly visible 4,900-square-foot top level. Opsis Architecture of Portland is the project architect.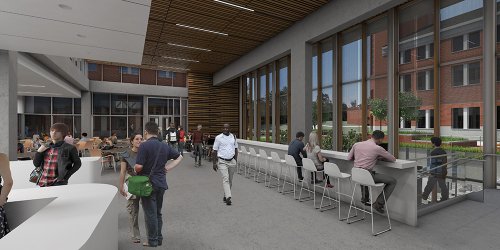 Gov. John Kitzhaber and the Oregon Legislature put the long-needed facility on a fast track by approving $8.375 million in general obligation bonds last fall.
UO donors raised a matching amount, led by philanthropist Lorry I. Lokey's $8 million contribution honoring Allan Price, a former UO vice president for advancement who died in 2012 at age 56.
"Allan Price's ability to imagine the future, and inspire others to help make that future a reality, is legendary at the University of Oregon," said UO President Michael Gottfredson.
"The Price Science Commons will support the deep learning and bold thinking necessary to transform lives and improve our world. We are grateful for the state's investment in this project and especially thankful to Lorry Lokey for his heartfelt gift honoring Allan's commitment to advancing the sciences."
During his tenure from 2001 to 2008, Price championed UO President Emeritus Dave Frohnmayer's vision for a transformed campus. He helped raise unprecedented philanthropic support for the university while overseeing Campaign Oregon. He was building the foundation for similar success at Oregon Health & Science University at the time of his death. See a video for more about Price's legacy and Lokey's gift.
Lokey, a Stanford University graduate who grew up in Portland and made his fortune by founding BusinessWire, said he and Price immediately formed a deep friendship based on their shared passion for education and for science as the key to a bright future.
"Allan had a huge impact at the University of Oregon, and I want his memory to continue," said Lokey, whose extraordinary gifts to the UO during Price's watch, all for academics, launched major capital projects for the sciences, education, music and journalism.
With this gift, Lokey's UO investments total $139.9 million, all since he first met Price and Frohnmayer. The university named its science complex for Lokey in 2007, in appreciation for his transformational gift of $74.6 million to advance teaching and research in several disciplines, especially the sciences.
In addition to Lokey, donors to the Prince Science Commons include Marcia L. Aaron, Barbara Reed Cargill, Rosaria Haugland, Jill and Phillip Lighty, Nancy and David Petrone, Darcy and Hank Tarbell, and Julie and Keith Thomson.
Construction will create an estimated 151 jobs when ground is broken in 2015.
About the University of Oregon
The University of Oregon is among the 108 institutions chosen from 4,633 U.S. universities for top-tier designation of "Very High Research Activity" in the 2010 Carnegie Classification of Institutions of Higher Education. The UO also is one of two Pacific Northwest members of the Association of American Universities.
MEDIA CONTACT: Julie Brown, UO public affairs communications, 541-346-3185, julbrown@uoregon.edu
Note: The University of Oregon is equipped with an on-campus television studio with a point-of-origin Vyvx connection, which provides broadcast-quality video to networks worldwide via fiber optic network. In addition, there is video access to satellite uplink, and audio access to an ISDN codec for broadcast-quality radio interviews.
###