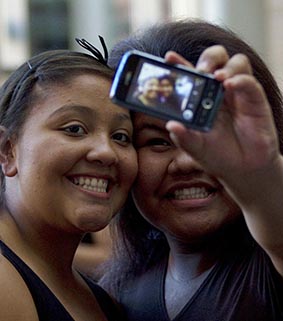 For many high school students in Oregon, college preparation doesn't begin until their senior year. For far too many others, college seems out of the realm of possibility. But for 40 high school students in the Oregon Young Scholars Program, college life has already started – and they are learning it is within their grasp.
This year's group of students arrived on the University of Oregon campus July 13. For seven days, they will live in a residence hall, eat in an on-campus dining facility and attend intensive classes in writing, math and specialized areas of study such as biology, computer science and theatre arts.
The Oregon Young Scholars Program (OYSP) began at the University of Oregon in 2005 to ensure that children from communities traditionally under-represented in higher education, from low-income households and first-generation prospective students have access to higher education. OYSP works to open the door to the college experience for students who otherwise might not see college as a part of their future.
"I am delighted that the Division of Equity and Inclusion is able to continue this worthwhile program," said University of Oregon Vice President for Equity and Inclusion Yvette Alex-Assensoh. "Giving these young people the opportunity to spend this week on campus not only opens the door to new ideas, but also their minds to the idea that they are serious college prospects."
The students will have a chance to visit and learn about a variety of departments on campus, from admissions and financial aid to the bookstore, Clark Honors College, CAMCOR labs and facilities, and the library. They will also attend a special business and networking dinner where they will learn how to engage and socialize with members of the Oregon business community. The program wraps up on Saturday, July 19, with students doing final presentations developed in their classes during the week.
Media opportunities:
"Business Dinner" at Lillis Hall Atrium
Wednesday, July 16, at 5:30 pm.
Lundquist College of Business
955 E. 13th Ave.
Capstone Project presentations
Saturday, July 19, from 11 a.m.—2 p.m.
Many Nations Longhouse
1630 Columbia St.
About the University of Oregon
The University of Oregon is among the 108 institutions chosen from 4,633 U.S. universities for top-tier designation of "Very High Research Activity" in the 2010 Carnegie Classification of Institutions of Higher Education. The UO is also one of two Pacific Northwest members of the Association of American Universities.
Contact: Julie Brown, Public Affairs Communications, 541-346-3185, julbrown@uoregon.edu
Source: Aria Seligmann, OEI Director of Strategic Communications, 541-346-5284 or 541-543-1482, arias@uoregon.edu
Note: The University of Oregon is equipped with an on-campus television studio with a point-of-origin Vyvx connection, which provides broadcast-quality video to networks worldwide via fiber optic network. In addition, there is video access to satellite uplink, and audio access to an ISDN codec for broadcast-quality radio interviews.
###