What to do with a billion terabytes of data? How to face a severe shortfall of data scientists? These and other questions will be addressed at Aug. 8 event.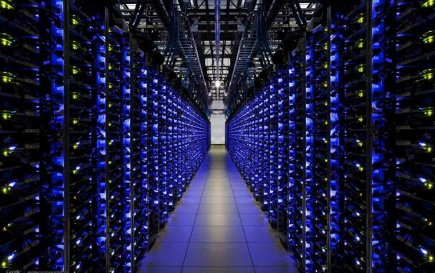 EUGENE, Ore. — (Aug. 1, 2014) — Big data poses big challenges and opportunities for researchers. Large science experiments can generate 1,000 terabytes of data each second and even modest genome sequencing projects yield virtual reams of information that must be stored, organized and analyzed to be useful to researchers and businesses.
An estimated 1 billion terabytes of data will be stored worldwide in 2014, according to the International Data Corp
To address the challenges and opportunities presented by big data, the University of Oregon Office for Research & Innovation and the UO Graduate School will host the Big Opportunities with Big Data conference on Friday, Aug. 8, in the Giustina Ballroom of the Ford Alumni Center, 1720 E. 13th Ave.
The event will feature industry leaders from GE Healthcare, IBM, Illumina, Moonshadow Mobile, Trident Capital and SheerID, along with representatives from PeaceHealth, WebMD and Salem Health, and academic experts from Harvard, Stanford, Oregon Health & Science University and the UO. State Rep. Nancy Nathanson will provide opening remarks for the event.
"As our ability to measure and store information continues to grow, so must our ability to analyze and translate that data," said conference organizer Andy Berglund, interim dean of the UO Graduate School. "This event will create connections across disciplines and result in new partnerships that will help us address these challenges."
The conference is organized around four thematic sessions:
•    Big data, the Internet and social media
•    Big data challenges for industry
•    Medical informatics
•    Big data and biology
The conference will feature a keynote address by Curtis Huttenhower, assistant professor of biostatistics at Harvard University, at 7:30 p.m. at the Hilton Eugene & Conference Center, 66 E. Sixth Ave. A specialist in data mining techniques for large sets of genomic information, Huttenhower will discuss innovative methods for managing and analyzing data using "identified unknowns" with known information to discern previously hidden trends and correlations. The keynote address is a crossover event shared with the UO META Center for Systems Biology's "Symposium on Host-Microbe Systems Biology."
The conference will also offer informal networking opportunities. The list of attendees includes representatives from the following companies and organizations:
•    BT Biotech
•    Dyscover.me, Inc.
•    Edge of Change
•    Eugene Water and Electric Board
•    GTC Institute
•    IBM
•    Illumina
•    Kaiser Permanente
•    N-Link Corporation
•    Oregon Health Authority
•    Oregon Healthcare Workforce Institute
•    Oregon Regional Accelerator and Innovation Network
•    Palo Alto Software
•    Peak Mortgage
•    Saavsus, Inc.
•    Willamette Angel Conference
A full list of speakers and schedule is available on the conference website. The event is free and open to the public to those registered by the Aug. 1 deadline.
Sponsored by the Engineering and Technology Industry Council (ETIC), a partnership between executives from industries across Oregon and leadership from the state's public research universities, the event is intended to serve as a catalyst to leverage the region's academic and industry resources in this important emerging field. Current projections suggest that the U.S. faces a shortfall of at least 140,000 qualified data scientists and engineers by 2018.
About the University of Oregon

The University of Oregon is among the 108 institutions chosen from 4,633 U.S. universities for top-tier designation of "Very High Research Activity" in the 2010 Carnegie Classification of Institutions of Higher Education. The UO also is one of two Pacific Northwest members of the Association of American Universities.
Media Contact: Lewis Taylor, lewist@uoregon.edu, 541-346-2816

Source: Andy Berglund, interim dean of the UO Graduate School, aberglun@uoregon.edu, (541) 346-8425

Note: The University of Oregon is equipped with an on-campus television studio with a point-of-origin Vyvx connection, which provides broadcast-quality video to networks worldwide via fiber optic network. In addition, there is video access to satellite uplink, and audio access to an ISDN codec for broadcast-quality radio interviews.