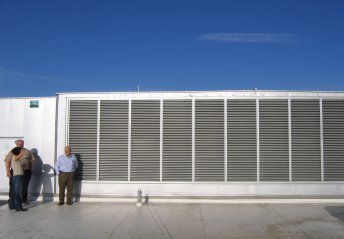 Shown is the rooftop mechanical ventilation system air intake at Providence Portland Medical Center. Natural ventilation is an alternative to mechanical ventilation systems, saving 10 percent to 30 percent of a building's total energy consumption. (photo courtesy Energy Studies in Buildings Laboratory).
EUGENE, Ore. -- (Aug. 12, 2010) -- Two University of Oregon biologists and a professor of architecture will lead a scientific journey into what may be the most underexplored frontier on the planet -- the closed, indoor environment where people in industrialized countries spend an estimated 90 percent of their time.
Their vision, part of a national research center funded by a $1.8 million grant from the New York City-based Alfred P. Sloan Foundation, is to develop a new science that focuses on the microbial ecology of indoor environments. The research effort, which will involve students studying the interface of biology and architecture, will be done under the umbrella of the new Biology and the Built Environment (BioBE) Center at the UO.
"One of the most exciting things we'll be doing is collaborating across biology and architecture to answer questions that have never been raised before," said BioBE Center Director Jessica Green, a UO professor of biology who also holds three degrees in civil and nuclear engineering.
The big question, said Green and BioBE Center co-investigators G.Z. "Charlie" Brown and Brendan Bohannan, is how is human health is impacted by both pathogenic and beneficial microorganisms inside of buildings.
"We are pleased to support the work of an outstanding group of scientists to accelerate scientific discovery in an important and understudied field of interdisciplinary scientific inquiry," said Paul L. Joskow, president of the Alfred P. Sloan Foundation. "Dr. Green has put together a first-class interdisciplinary team of researchers, one that promises to shed new light on one of the most unexplored areas in modern ecology."
The research will cover every aspect of the built environment, said Brown, the Philip H. Knight Professor or Architecture and director of the UO Energy Studies in Building Laboratory. Brown, a former winner of the U.S. Green Building Council's Leadership Award for Research, is widely known for his work in promoting sustainability in building practices and teaching. He also is a participating faculty member in the Oregon Built Environment & Sustainable Technologies Center (Oregon BEST), an independent, nonprofit organization established by the Oregon Legislature that focuses on sustainability, natural resources and renewable energy.
"This center will boost the use of evidence-based design in architecture in our decision-making," Brown said. "Every single thing in a building affects the biology inside. Radiation, ventilation, building materials, lighting, temperatures, humidity, really everything, all are important. Of crucial importance is our understanding of the link between sustainable, or green, design practices and indoor microbial diversity."
The center, he added, will launch a new scientific field, providing new applications for architecture that will improve indoor habitats. Following up on existing work, researchers will expand their sampling of indoor environments from hospitals to schools, applying molecular and genetic analyses to gather new information about microorganisms living throughout buildings. Center activities also will lead to new interdisciplinary courses that link biology and architecture.
"This center will bring together people who rarely interact -- engineers, architects and biologists -- to ask questions about the indoor, or built, environment," said Bohannan, director of the UO Center for Ecology and Evolutionary Biology and member of the UO's Environmental Studies program. "Even though this is the environment where we spend most of our time in, the one over which we have the most control, we know the least about the biology of the indoors."
The BioBE Center will build on the UO's existing reputation in sustainable design for which the architecture department holds the nation's top ranking, said Terry Blomquist of the Energy Studies in Buildings Laboratory. It also is part of the UO's Sustainable Cities Initiative.
About the University of Oregon
The University of Oregon is a world-class teaching and research institution and Oregon's flagship public university. The UO is a member of the Association of American Universities (AAU), an organization made up of the 63 leading public and private research institutions in the United States and Canada. The UO is one of only two AAU members in the Pacific Northwest.
About the Alfred P. Sloan Foundation
Established in 1934 by Alfred Pritchard Sloan Jr., then-president and chief executive officer of the General Motors Corp., the Alfred P. Sloan Foundation is a philanthropic, not-for-profit grant-making institution that supports original research and broad-based education in science, technology, engineering, mathematics and economic performance.