EUGENE, Ore. -- (March 8, 2011) -- The University of Oregon's Network Startup Resource Center (NSRC), which has helped to build Internet infrastructure and provide technical training in more than 100 countries around the world for nearly 20 years, will expand its activities thanks to a $1.25 million gift from Google Inc.'s Charitable Giving Fund.
Google's Other Gifts
Nelson Mandela Foundation Centre of Memory and Desmond Tutu Peace Centre are among the additional recipients.
The gift was awarded through the Google Inc. Charitable Giving Fund of Tides Foundation to support the UO-based center.
"We are excited to support the NSRC's contributions to the growth of the Internet in developing countries," said Euan Guttridge, technical program manager for Google in Sub Saharan Africa. "The NSRC stands out for its sustained nurturing of technical talent and for its excellent relationships with the Internet community. We hope that Google's donation will accelerate the growth of this community and ultimately the accessibility of the Internet worldwide."
The NSRC was established in 1992 with support from the National Science Foundation to provide technical assistance to organizations setting up computer networks in developing areas for collaboration with U.S. scientists. Today, the NSRC is partially funded by the NSF, along with additional contributions from more than two-dozen public and private organizations at any given time in support of its Internet development work to help connect universities, research institutes and non-profit NGOs (non-governmental organizations).

"We have several niches within the NSRC, but our overarching focus is trying to assist countries that are less advantaged, in terms of money, bandwidth, technical resources and basic infrastructure, so that they are able to participate in and contribute to the global Internet," said NSRC Director Steven Huter. "We appreciate the recognition and support from Google to help build more net and scale up technical assistance with partner organizations in Asia/Pacific, Latin America and Africa. To build sustainable networks, it's essential to work with local hands, cultivating local expertise."
With the Google funds, the NSRC intends to expand existing efforts in these areas: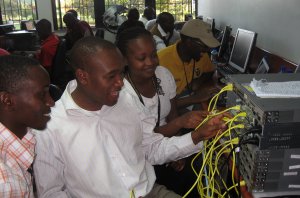 • Campus network design programs such as those held recently at universities in Kenya, Ghana, Sri Lanka, Nicaragua, Bolivia, Nepal and Thailand. The programs emphasize the importance of the campus network as the foundation in building robust, high-performance national research and education networks. In addition to hands-on training for Internet engineers, the NSRC backs that effort by distributing donated books and network equipment to help universities develop their local infrastructure and technical libraries. From 1992 through 2010, the NSRC has helped distribute about 300 tons of donated technical reference books and networking equipment to engineering and computer science departments, university libraries, NGOs and networking training facilities in the least-connected countries, from Afghanistan to Zimbabwe.
The donated equipment, along with NSRC assistance, "is making a significant impact in improving the functionality of the respective campus networks, which helps to achieve the [Kenya Education Network Trust's] goal of getting more faculty members and students using the Internet for research and education activities," wrote Kevin Chege, the trust's network manager, in the January issue of the Internet Society's IETF Journal.
In response to requests for assistance, the NSRC plans to work with? university colleagues in Senegal, Ghana, Nigeria, Malawi, Kenya, Tanzania, ?Nepal, Sri Lanka, Thailand, China, Fiji, the Kingdom of Tonga, Ecuador and? Guatemala this year.

These activities are partially funded by a three-year, $1.6 million NSF grant awarded in May 2010 for a project led by the NSRC's Dale Smith and Huter to cultivate the International Research and Education Network fabric, an essential underpinning of necessary cyber-infrastructure. "This gift from Google is significant, because it will allow us to provide more assistance to our partners around the world," Smith said. "The assistance will translate directly to getting more university faculty and students connected to the Internet."
In one complementary training initiative, NSRC collaborators have worked closely with the African Network Operators' Group to improve employment opportunities for women in Internet infrastructure work. The goal is to help more women across Africa develop the technical skills to become system administrators and network engineers.
• WirelessU.org Internet infrastructure and training, an effort that began in 2007 with colleagues at with colleagues at NetworkTheWorld.org and the International Center for Theoretical Physics in Italy, to help researchers, educators and NGOs that request help with Internet connectivity solutions via wireless technology. WirelessU-NSRC programs have been conducted, for example, in Benin, Papua New Guinea, Nepal and Thailand.
• Wireless sensor networks for research purposes, allowing for remote monitoring and intensive data collection in real time. Among current projects is an NSF-backed effort to collect climate data from lakes, some of them in isolated locations, around the world.
In addition, Huter said, the NSRC will be exploring innovative new projects and collaborations to assist in digitization of scientific and cultural resources at university libraries. Having affordable access to software and digital content is a huge challenge in many countries.
"We have championed Koha open-source software in Malawi and have implemented integrated library systems in 10 nursing colleges," said Kondwani Wella, librarian for the University of Malawi's Kamuzu College of Nursing in the small, agriculture-dominated country in southeast Africa. "Malawi is a shining example in terms of HIV and AIDS interventions." She also noted the country's research on maize, nutrition and chemistry, where the focus in on cassava starch. "These could be shared with the international learning and research community via the Internet."
About the University of Oregon
The University of Oregon is among 108 institutions chosen from 4,633 U.S. universities as providing "Very High Research Activity" in the 2010 Carnegie Classification of Institutions of Higher Education. The UO also is one of two Pacific Northwest members of the Association of American Universities.